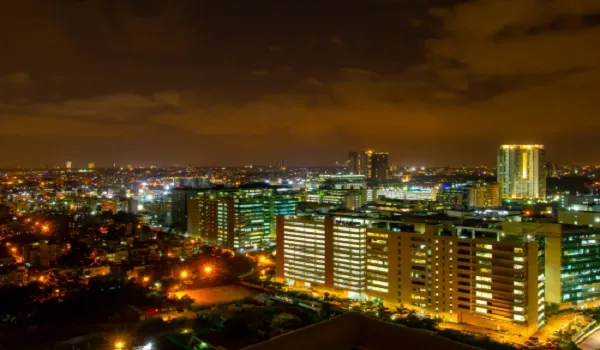 Bangalore is a city that has expanded its horizons exceptionally well and has reached limits beyond its imagination. The pleasant climatic conditions and the boom in the IT industry have hugely impacted the growth of the city by attracting numerous migrants from all over the world.
North Bangalore is one such prominent suburb that has experienced tremendous development after the inception of Kempegowda International Airport. It is considered the third busiest airport in India, which significantly gave rise to ample real estate activity. With prominent IT Parks in the vicinity, North Bangalore is the current hotspot with a 6 lane highway.
Devanahalli is one of the major localities of the northern suburb which has emerged as a promising investment hub with prime investments established by various means. Along with the economical investment ample number of projects are lined up hospitality industry and the entertainment sector, making the place an ideal hub for social living.
Read more about the Plots: Purva Tivoli Hills
Top Developments:
Information Technology enabled Service and Biotechnology (ITIR)
An area of approximately 10,000 acres of land has been identified by the State Government in Devanahalli taluk to set Information Technology Investment Region (ITIR). This is among the most comprehensive infrastructure projects of the state, providing primary employment to 1.2 million people and secondary employment to 2.8 million.
Special Economic Zone (SEZ)
The aerospace sector is one of the fastest-growing fields and Karnataka is the only state to have a dedicated Aerospace policy in place. Close to 3000 acres of land in Devanahalli is allowed for Aerospace Special Economic Zone (SEZ) where 900 acres of land is already allowed for 48 larger companies.
Aerospace Park:
In the existing 1000 acres of Aerospace hub, close to 250 acres is allotted special economic zone (SEZ) which will introduce the US companies to industry and government officials here to learn about opportunities they can exploit through various aerospace programs.
Devanahalli Business Park:
This is one of the prime developments coming up in North Bangalore, adjacent to the International Airport. The park has lounged across an area of 413.65 acres owned by KSIIDC along the National Highway-7 (NH-7).
Global Financial District:
To take up the investment hub to a global level the state government is in conversations with banking giants to establish Global Financial District near Devanahalli, developed over 150acres, which will also include a residential township. This will offer specific services for banks, insurance companies, stock exchanges, and others in the financial services sector.
Aerotropolis:
This development is nothing but an airport township where an airport will be surrounded by residential units, golf courses, hotels, multi-story residential high-rises, malls, etc. This is a step to achieve modern civilization and another world in itself creating 4,000 to 5,000 job opportunities.
Bangalore Turf Club:
The state government will be shifting Bangalore Turf Club (BTC) to Chikkajala in Devanahalli taluk with an investment of Rs. 350 crores.
Medical Tourism Hub:
The government of Karnataka has proposed to launch a medical hub on 300 acres of land with departments like private hospitals, diagnostic centers, Ayurvedic resorts, and centers extending alternative systems of medicine.
North Bangalore Connectivity:
North Bangalore has brilliant connectivity with the presence of six-lane Bellary Road or NH7 connects Devanahalli to all the other important parts of the city and allows commuters to reach out to areas like Yelahanka and Hebbal with a drive distance of 20 minutes.
IVC road another prominent northern region is proposed to create an expressway link between the Kempegowda International Airport and three other main highways that connects to Bangalore namely: Bellary Road (towards Hyderabad), NH 207 (towards Hoskote), and Tumkur Road (towards Mumbai). The widening development of Bellary road is slated to take place from 6 lanes to 8 lanes to enhance the connectivity.
The peripheral ring road and Satellite Town ring road connect Bellary Road, Old Madras Road, Hosur Road, Mysore Road, and Tumkur Road boosting the connectivity. Along with this the planned phase 2 metro lane will extend up to the airport in the north and NICE junction in the south with a stretch of 72 km.
Social Infrastructure:
The commencement of the International Airport has not only improved the transportation zone but also has greatly impacted the development of northern Bangalore with notable social infrastructure facilities. There are infinite reputed educational institutions, health care units, and entertainment hubs in the vicinity encouraging a very good community living space. Some of the pre-eminent ones are as follows:
Educational Hubs:
CMR University
Delhi Public School
REVA University
Brindavan College
Canadian International School
Chrysalis High School
National Public School
VIBGYOR School
Presidency College
Ryan International School
Akash International School
Health Care Units:
Akash Hospital
Columbia Asia Hospital
Leena Multispecialty Hospital
Recreational Zones:
Decathlon (Anubhava)
Big Brewsky
LULU Value Mart
World Market Mall
Galleria Mall (RMZ)
Esteem Mall
Elements Mall
Real Estate Potential:
North Bangalore is among the promising option for long-term investments and residential living. The real estate values are increasing every passing day owing to the connectivity via Outer Ring Road (ORR), closeness to the International Airport, and its proximity to connect to many other major hubs of the city.
The locality is also hosting a lot of vital residential projects from reputed developers of the city offering premium and affordable housing segments. The residential development varies with different types of housing options such as luxury villas, townhomes, villas, duplex homes, and regular apartments by giving a lot of choices to the potential home buyers.
In the last few years, North Bangalore has seen a healthy price appreciation every year in both mid-segment housing and high-end housing segments. With the presence of major business parks, underway and planned infrastructure ventures, availability of land space for both commercial and residential segments with the proximity to the airport, the area has a promising future for potential investments and real estate growth.